The number one company in the enterprise resource planning (ERP) market today is SAP, an acronym for systems, applications, and products. Based on its 2010 statistics, this company has over 140,000 installations worldwide, with more than 75,000 customers in 180 countries.
Moreover, SAP has deployed more than 25 industry-specific SAP software business solutions. It has business operations in North America, South America, Africa, Asia, the Middle East, and Europe. But what is SAP software used for?
SAP software products are powerful business tools used by commercial enterprises to manage their human and financial resources, logistics, and other business concerns. The SAP ERP system is the main pillar of the SAP software and the most advanced ERP system currently available.
When used in commercial operations, SAP software brings efficiency and modernity to the organization. No other business software can match its support communications, too.
Read on to learn more about SAP software and how this business tool can make your commercial operations more efficient and profitable.
What Is SAP Software Used For?
In conventional business operations, the normal plans of action involve decentralized exchanges of information across the board. Each section and part of the business has its own method of storing information about its tasks in its particular database.
As a result, company workers from different departments cannot easily get the information they need from other sections of the company to make wise decisions. Additionally, there is a need to duplicate the information from one department to another. Stockpiling of IT data builds up, and the risks of misinterpreting those data get higher.
If companies use SAP software, they will be able to concentrate their information processing in just one dedicated and centralized section. The programming that SAP offers will give a single perspective on real-time conditions that need to be utilized by the different departments of the business to be more efficient and profitable.
In practical terms, the SAP software will help commercial entities improve their supervision of complex business operations. It will enable company workers to access ongoing, real-time bits of data in business activity. Also, companies will be able to improve workers' efficiency, speed up work processes, and increase their profitability.
What Is SAP Software?
In a nutshell, SAP is an ERP. Like any other ERP, SAP is just a simple business transaction automation software. It is simply an RDBMS or a relational database management system with pre-configured business rules and reports. Its business rules are called functionalities or features.
To give you some background information, SAP is a German multinational software company established in 1972. From a five-person startup group, it has grown to be a global market leader and provider of ERP solutions and services. Most of its clients belong to large commercial enterprises in over 180 countries.
This company focuses on the development of enterprise software that manages business operations and customer relations. It has built its reputation from the efficacy of its ERP software. Its headquarters is located in Walldorf, Baden-Wurttemberg, Germany.
What made SAP very popular is its ability to make business systems more modern and extremely efficient. It is composed of several integrated modules that will efficiently manage businesses, mostly large ones. These modules cover nearly all aspects of business management. Recently, small business organizations are already beginning to adapt to SAP's business solutions.
How Does SAP Work?
We've looked at what SAP software is used for; now, let's look at how SAP software works. To provide solutions to business problems, SAP uses the principles and concepts of ERP. That said, here is how SAP works.
There are four major modules that SAP utilizes in doing its work. These modules are:
1. Financial Modules
The following aspects of the business are included in these modules:
Financial Accounting
Investment Management
Controlling
Enterprise Control
Treasury
2. Human Resource Management Modules
The business areas included in these modules are:
Personnel Management
Organizational Management
Other related areas
3. Logistics Modules
The aspects of the business included in these modules are as follows:
Production
Material Management
Sales and Distribution
Other related areas
4. Cross Application Modules
The business aspects included in these modules are the following: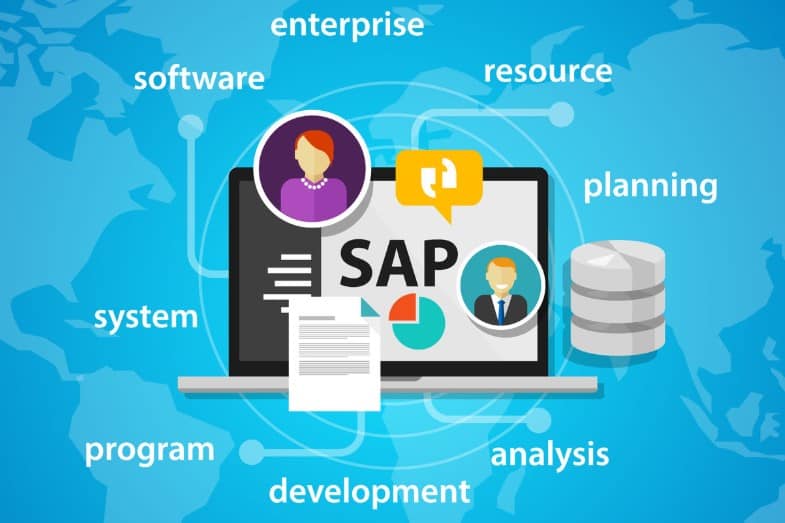 Please note that a business enterprise using SAP software may or may not have all these modules in its business activities all the time. But it is not incorrect to assume that all businesses that use SAP software have all these modules operating at any one time.
Importance of SAP Software
The majority of active businesses today, especially large ones, believe that SAP software is vital to the success of their operations. Most of these businesses are using SAP in their daily reporting and operations. The 180 countries around the world where SAP is present are testimony to this fact. Currently, SAP's user base is approximately 12 million commercial entities around the world.
Without the SAP software, companies are forced to settle with information system architectures that are not very efficient. Some companies may have systems designed for general ledger management. They may also have other systems that run their production processes, and separate systems for sales management, and so on.
In this kind of setup, the information transfer between different sections of the business operation is rather slow and inefficient. If a particular section of the business cannot access the right information when they need it, then that section bogs down in its responsibility. It doesn't just affect that particular area, but the whole organization as well.
If SAP software is deployed in a business concern, it will avoid the above problematic operational scenario. The SAP system is a completely integrated business synchronized system that enables continuous communication and removal of data discrepancies between the subsystems.
What Are the Benefits of Using SAP Software?
When SAP is integrated into your business operations, you stand to gain the following benefits:
1. Increases Your Output
Every company that deployed SAP software in its operation has experienced increased productivity. Workers can access information at the time they need it, increasing their efficiency to produce more. Improved reporting system of the software will be able to improve operational management.
2. Optimizes Your IT Expenses
Deploying SAP software in your operations will incrementally improve your money flow. It will also reduce your need for third-party software.
3. Minimizes Your Risks
The financial modules of the SAP software are designed to help you manage your finances wisely. You will also be able to manage and control your money flow efficiently. The investment management aspect of the financial modules will also help you correctly assess the investment opportunities that will come your way.
4. Streamlines Your Operations
It will be useful to perform a detailed analysis of your business operations before deploying the SAP software. You need to be aware of the actual condition of your company vis-à-vis business objectives. Then you need to see how you can integrate these goals as to the way the SAP software works. By doing this, you'll know what can be improved in your current operations.
5. Reduces Your Operating Costs
SAP software is capable of enhancing your company's efficiency, consistency, and flexibility. It does so by extrapolating collaborative tasks, information, and business deals. The software's financial modules will also help you attain a deeper understanding of your client's businesses.
Other Benefits You Can Get from SAP Software
You will get information across departments in real-time.
This software is a centralized enterprise management system that can provide you with better customer interaction and improve customer service quality. You will also have increased throughput.
This software will eliminate duplication, redundancy, and discontinuity of data.
It will enhance your productivity, reduce your overhead costs and material costs. The software will also improve your inventory and human resource management, not to mention increase product quality and profits.
Important Roles That SAP Software Play in a Business Organization
Some of the essential functions of SAP software in a business organization affect its clients and workers. They are the areas in your business operations that will experience marked improvements if you deploy the SAP system.
1. Building and Organizing Reports
Whether a business organization is big or small, it needs a system of reporting. You won't be able to help your business succeed without having any kind of reporting system. Building itemized reports take a lot of time. But it's got to be done because a lot depends on the data contained in such reports.
The SAP software can be of help in this area. Once you have properly set up this software, it will take care of the daily, monthly, quarterly, and yearly creation, including the compilation of reports. What usually takes hours or even days will be completed in just a matter of minutes. How great is that?
Additionally, SAP will ensure that these reports contain the relevant information required in wise decision-making. It is possible because this software is designed to automate several reporting procedures.
2. Management of Inventory
For business success, you must have a good system of inventory management. SAP has a stock administration module, which is very useful when working with your providers and clients.
If you use SAP software in your company, your workers will always have all the relevant and updated information regarding the status of your product inventory in all phases. For instance, they will know how many finished products are left in your stockroom, the status of your request for raw materials, what products are still in process, and how many items are about to be finished, and so forth.
The Basics of Using SAP Software
The following will show you the basic concepts of how SAP software systems work. It is basically a centralized system of accessing information. There are two characteristics of a centralized system of information and data management:
A central location maintains the data. It is where information is shared with different departments.
All departments within the company can access data or information from other departments.
An illustration of these concepts will help you better understand how SAP software works.
A customer wants to buy an item from the company, and he wants to buy it now. The sales staff accesses real-time information about their inventory. This inventory is always updated by the Inventory Department in the SAP system.
The sales team responds to the customer's request on time, which leads to customer satisfaction and increased revenue for the company.
In cases where product manufacturing is required, the sales team updates the centralized database. Such updating will inform all the departments about the inventory status of the item.
The company's Production Planning Department will be informed automatically by the SAP software/database of the requirement. This department will check the availability of the raw materials needed to produce the item. They will access the central database, which is always updated by the Inventory Department.
This process prevents duplication of data and work effort. Accurate data is available all the time. The team at the manufacturing area also updates its manpower status regularly in the database center. This information is also accessible to the HR Department.
When there is a shortage of manpower, the HR team begins the process of recruitment. It has a considerable lead time to hire a candidate suited to the job and at the prevailing market price. It will also result in reduced labor costs.
Suppliers can submit their invoices directly to the centralized system. The finance department of the company can always access this information. Also, payments are always made in time, and legal actions by vendors are avoided.
Conclusion – What Is SAP Software Used For?
So, to recap, what is SAP software used for? SAP software products are powerful business tools that commercial enterprises use to help them manage their human and financial resources, logistics, and other business concerns.
The SAP ERP system is the main pillar of the SAP software. It is also the most advanced ERP system currently available. When used in commercial operations, it provides efficiency and modernity to the organization. No other business software can also match its support communications.
Related reading:
FlexNet Licensing Service [What Is It and How Does It Work?]
Digital Communication Definition – What Is It?