Gabriel and Co is a company known as an expensive brand of designer jewelry. They offer a wide range of exquisitely designed jewelry, which is among the highest quality in the industry. Reading the many Gabriel and Co reviews online will convince you that it's the brand you can definitely trust if you're in the market for beautifully crafted jewelry.
Industry and customer reviews of the jewelry designed and crafted by Gabriel and Co are unanimous in saying that this jewelry brand is defined by exquisite design and quality.
A majority of its customers rate this brand with a 4.8/5 star rating. While Gabriel and Co jewelry is relatively expensive, it is built to last and worth it for the quality.
Buyers of jewelry from Gabriel and Co are quick to say that it's really a good buy, considering the quality of the gemstones and the price that they pay. It is seldom you can find negative Gabriel and Co reviews.
Read on to learn more about Gabriel and Co reviews as well as the jewelry they have to offer.
Also, to learn more about Gabriel and Co, and see their latest collection, click here to visit Gabriel and Co.
Gabriel and Co Reviews
Several Gabriel and Co reviews unanimously say that this company's jewelry pieces are expensive yet are worth their prices due to their exquisite and quality designs. In fact, the majority of its users gave their pieces a 4.8 out of 5 ratings.
This company is an online jewelry brand that focuses on weddings and jewelry for special occasions. They are concentrating on women's jewelry pieces.
Several celebrities such as Vanessa Hudgens, Lily Singh, and Adrienne Bailon are seen wearing this jewelry brand at award ceremonies, premieres, and talk shows.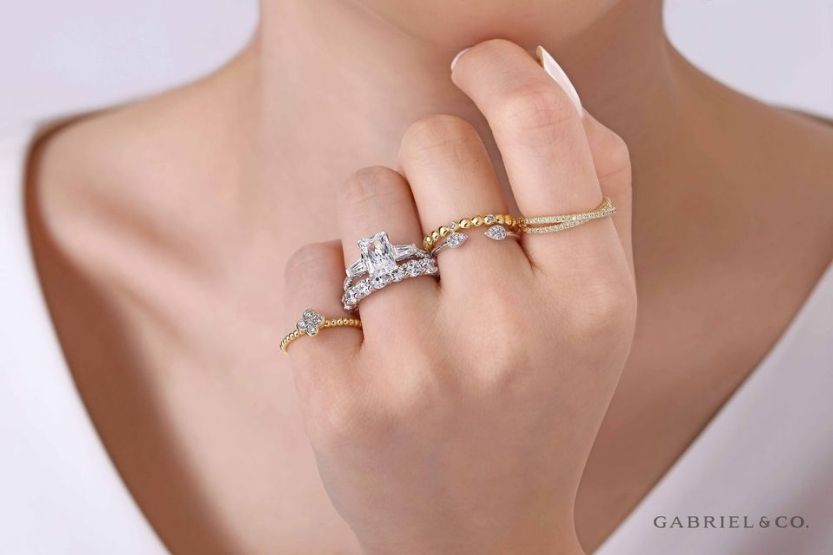 Buyers of jewelry from this company agree that their pieces are original and imaginative. For instance, one Facebook user said the pieces from Gabriel and Co are "gorgeous with lots of attention to detail."
They also said that they own several pieces and are very happy with the Gabriel and Co quality, the price point, and are proud of being such exquisite jewelry.
Gabriel and Co is a family-owned jewelry maker. They are famous for being artistic designers, dependable creators, passionate and trusted manufacturers of beautifully crafted jewelry.
The company's extensive line of timeless jewelry pieces intends to encompass fashion-forward and classic designs, combining proven technology with impeccable artistry.
Gabriel & Co History
Brothers Jack and Dominick Gabriel founded the company in 1989. It was the thought that the jewelry industry needed a touch of sentimentality and originality that spurred them to establish their own jewelry brand.
The two have an extensive background in jewelry making. They were both apprentices of their father, Elias, who has worked all his life with precious metals and gemstones. Elias was a master jeweler. It is but natural for the brothers to follow in their father's footsteps.
The brothers clearly understood the need for beautiful and creative jewelry. The combinations of gemstones and precious metals are important to human beings in celebrating special occasions, capturing the beauty of life, and honoring the deepest relationships.
To celebrate their 30th anniversary in 2019, the brothers transferred their headquarters in the heart of New York City. Their jewelry pieces range from Souvenirs, Lusso, Classique, Hampton, Contemporary, Bukukan, Victorian, and Art Moderne.
To learn more about Gabriel and Co, and to see their latest collection, click here to visit Gabriel and Co.
Gabriel & Co Jewelry Pieces
Gabriel and Co offer a wide variety of jewelry pieces. They have everything for everyone. The materials they use range from vibrant gemstones and pearls to gold and shining silver. Their creations range from engagement rings, wedding bands, rings, bracelets, earrings, and necklaces.
Gabriel and Co jewelry reviews stated that customers, who want specific jewelry, can choose gemstone cuts and styles in every jewelry category.
Their choices can range from Bukukan designed gold earrings or rings to a Victorian-inspired emerald necklace. This jeweler can satisfy every taste of every individual customer.
Bridal Jewelry
Most designer jewelry brands concentrate on creating bridal jewelry, mostly consisting of wedding rings and engagement rings. Gabriel and Co also focus on these jewelry types.
But they also cater to customers who require jewelry intended for other occasions, such as anniversaries, birthdays, and many others.
This company also maintains a fine jewelry section that consists of the following types of jewelry:
Bracelets
Rings
Earrings
Necklaces
Lifestyles
There are also various "collections" in the product lineup of Gabriel and Co. The company calls them "Lifestyles." Every item in these collections is different from each other.
Each of these pieces is designed for different purposes and occasions. Included in these "Lifestyle" collections of this brand are the following:
The Gabriel Silver Collection
The AMA VIDA Collection
The Gaby Collection
The Gabriel Collection
The Let's Play Stackables Collection
What is quite interesting about this jeweler is that they welcome new ideas from their designers. Jack and Dominick usually hire new designers to create new masterpieces for their distinguished and discriminating clientele.
They also help new designers gain recognition for their works by establishing its "Designer Flash" department that allows would-be-buyers to take a peek at the different designers hired by the company.
Customers get to see certain designs that these designers have created for the company.
Lastly, Gabriel and Co also provide customization services to their customers. They can create custom jewelry according to the whims, styles, and tastes of their individual customers. Each piece of jewelry made in this section is truly individually and uniquely crafted.
From the many Gabriel and Co reviews, most buyers who bought pieces of jewelry from Gabriel and Co gave these pieces a 4.8 out of 5 ratings. Written Gabriel and Co reviews state that this company's jewelry is expensive yet exquisite and high quality.
Gabriel & Co Jewlery
Here are some of the most exquisite pieces available on Gabriel and Co:
14 K White Gold Prong Set Diamond Wedding Ring
This jewelry piece contains 14 diamonds that line the gorgeous scalloped white gold wedding band. You also have the choice to change the carat weight of the jewelry. Your options include 0.46, 0.09, 1.42, 0.24, 0.73 and 0.98.
The ring design features the latest hot fashion trends. They range from astrological, minimalist and alluring, and loud and proud. This white gold comes from the company's contemporary collection. For the 0.46 carat model, the price is $1,705.
14K White Gold Round Twisted Diamond Engagement Ring
The design of this ring is simple but elegant. It is ideal for someone who needs an engagement ring that is truly unique and different from classic engagement rings—Gabriel and Co delicately braided this piece with your choice of gemstone at the center.
With this ring, you get to choose what kind of cut you want to have for the diamond. You can choose from the following:
Princess cut
Pear shape
Emerald cut
Oval
Marquise
Cushion cut
It is also your choice to get a platinum, gold, or a combination of yellow and white gold or white and rose gold metal band.
You can also choose if the carat weight should be 0.5 or 0.75 carats. The cost of this beautiful ring is $1,215.
Gabriel and Co engagement ring reviews are very positive. They state the quality of the rings and how they stand the test of time. Gabriel and Co engagement rings offer an extensive selection of women's and men's engagement rings, wedding rings, wedding bands, and ring/band sets.
14K Yellow-White Gold Diamond Eve Pendant Necklace
This beautiful necklace features a chain and eye-shaped white gold. It is not the usual shape, but it showcases a dazzling and dainty diamond as the eye's pupil.
This necklace presents a meaningful symbol from different cultures. It symbolizes light, truth, vigilance, intelligence, moral virtues, and even clairvoyance.
The designer made this necklace balanced with its small pendant and short chain. It is not too powerful, and yet it is not too simple even. It is part of Gabriel and Co's Fashion Jewelry collection, and you can get it for only $375.
Sterling Silver White Sapphire Earrings with Blue Teardrops
These earrings have a captivating cool tone with its 925 sterling silver material and shimmering ice blue teardrops made from white mother of pearl, rock crystal drops, and green onyx.
The designers put intricate floral and pear-shaped white sapphires atop the teardrops.
These earrings belong to the company's Fashion Jewelry collection. They are so demure and petite that they deserve to be part of a sophisticated woman's jewelry pieces. Moreover, these earrings do not overshadow your face. They accentuate it. You can get this pair of earrings for $265.
14K Yellow Gold Three Stone Garnet and Diamond Ring
This diamond ring looks like the ring that Queen Victoria stored in her jewelry box. It is part of the Victorian collection of Gabriel and Co. The design of this ring was inspired by the wealth and pomp of the Victorian Class.
This ring is also infused with historical aesthetics that is easily seen in its vintage style. If you are not fond of ruby red garnets, you can change them to Swiss blue topaz, peridot, citrine, or amethyst.
Whichever gemstone you prefer, this ring will have two small diamonds on both sides. They perfectly match the yellow gold band. This ring goes at the price of $455.
Hammered Sterling Silver Rock Crystal and Black Pearl Split Bangle
This is a bangle that you would want to wear often because it is easy to slip on your wrist, and yet it won't fall off easily because of its strong clasp. It has a subtle shine and is hammered to perfection to give it a scaly and almost mermaid-like texture.
You have the choice of gemstone for the bangle's cuff closure. Your choice includes mother cultured pearl, green onyx, and rock crystal in black pearl. This bangle belongs to the company's Souviens collection. You can get one for $265.
Is Gabriel and Co Jewelry Worth It?
1. Unique Designs
Considering their unique designs and their price points, the jewelry pieces created by Gabriel and Co are definitely worth it. You should not be easily overwhelmed by the price and beauty of this prestigious brand's unique jewelry.
2. Elegant and Stunning
It is astonishing to find elegant, stunning, and one-of-a-kind jewelry pieces at very reasonable prices by examining their collections.
This company has truly accomplished its mission of designing gorgeous pieces that are individualistic and sentimental with friendly prices at the same time.
3. Exquisite Designs and Craftmanship
With their exquisite designs and craftsmanship, it is straightforward to fall in love with this jewelry brand. The majority of their pieces can be customized, starting from the gemstones you like to the diamond carat's weight. Thus, you can really get a piece that is truly one of a kind.
4. Jewelry Based on Personality
One good thing about shopping on their website is that you can buy a type of jewelry based on your personality or the personality of the person you want to give the jewel as a gift.
You can tailor your jewelry gift whether your recipient is sophisticated and urban or the romantic type. It makes your gift more meaningful because you are showing your recipient that you really know them.
Gabriel and Co Offers Guarantees
An additional feature that makes shopping at Gabriel and Co more profitable is that they guarantee their jewelry creations.
By guaranteeing their creations, they are willing to put their reputation and brand name on the line. To guarantee their products, this company offers the following.
Lifetime Warranty for all manufacturing defects on registered styles
Certificate of Authenticity with individual serial number
Free of charge cleaning twice a year at a retail partner nearest you
One year scope of damages from normal wear and tear on registered styles
Offers to exchange your registered engagement ring within one year of purchase for another ring of equal or higher value.
Conclusion – Gabriel and Co Reviews
Reviews from customers and the industry are unanimous in saying that Gabriel and Co's jewelry brand is defined by exquisite beauty and high quality. A majority of its customers give the jewelry pieces finely crafted by this company a 4.8/5 star rating.
Admittedly, the jewelry pieces of this company are a little bit expensive. But one thing is sure: they are really worth their prices.
To learn more about Gabriel and Co, and to see their latest collection, click here to visit Gabriel and Co.